We had my husband's brother, his wife, and their kids over for dinner last night. We all had a great time - nothing like good food and great company! :o) We've enjoyed this meal a few times this summer, so I figured I should just go ahead and post it. Please give them try and let us know how you like them! Happy eating...
2 tablespoons chopped garlic
2 tablespoons kosher salt
2 tablespoons sugar
1 tablespoon ground cumin
1 teaspoon pepper
6 chicken thighs (about 2 1/2 lb. total)
6 chicken drumsticks (about 1 3/4 lb. total)
In a large bowl, mix buttermilk, shallots, garlic, salt, sugar, cumin, and pepper. Rinse chicken thighs and drumsticks and pat dry. Trim off excess fat. Submerge chicken pieces in buttermilk brine. Cover and chill for at least 4 hours, or up to 1 day (see notes). Lift chicken from brine; discard brine. Wipe excess from chicken with paper towels. Lay chicken pieces on a barbecue grill over medium coals or medium heat on a gas grill (you can hold your hand at grill level only 4 to 5 seconds); close lid on gas grill. Cook, turning frequently, until browned on both sides and no longer pink at the bone (cut to test), 20 to 30 minutes. Serve hot or cold. Serves: 6
NOTES: Brine the chicken up to 1 day before grilling; grill up to 1 day before serving (chill airtight). Transport in brine when grilling on-site. Keep the meat well chilled in an ice chest until ready to serve or grill. *We used all drumsticks. **We also found that it's important to keep the skin on - you can always pull it off afterwards, if your chicken gets too dark.
2 pounds clean, scrubbed new red potatoes
6 eggs
1 pound bacon
1 onion, finely chopped
1 stalk celery, finely chopped
2 cups mayonnaise
salt and pepper to taste

Bring a large pot of salted water to a boil. Add potatoes and cook until tender but still firm, about 15 minutes. Drain and set in the refrigerator to cool.
Place eggs in a saucepan and cover with cold water. Bring water to a boil and immediately remove from heat. Cover and let eggs stand in hot water for 10 to 12 minutes. Remove from hot water, cool, peel and chop.
Place bacon in a large, deep skillet. Cook over medium high heat until evenly brown. Drain, crumble and set aside.
Chop the cooled potatoes, leaving skin on. Add to a large bowl, along with the eggs, bacon, onion and celery. Add mayonnaise, salt and pepper to taste. Chill for an hour before serving.
Serves: 12

We also had a pot of pinto beans with homemade salsa on top, my cheddar beer bread, and even some mac-n-cheese for the kids who didn't like potato salad.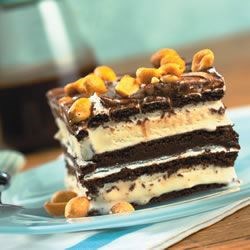 Hot Fudge Ice Cream Bar Dessert


16 oz. chocolate syrup
3/4 cup peanut butter
19 ice cream sandwiches
1 (12 ounce) container frozen whipped topping, thawed
1 cup salted peanuts
Pour the chocolate syrup into a medium microwave safe bowl and microwave 2 minutes on high. Do not allow to boil. Stir peanut butter into hot chocolate until smooth. Allow to cool to room temperature. Line the bottom of a 9x13 inch dish with a layer of ice cream sandwiches. Spread half the whipped topping over the sandwiches. Spoon half the chocolate mixture over that. Top with half the peanuts. Repeat layers. Freeze until firm, 1 hour. Cut into squares to serve.
yield: 18 servings