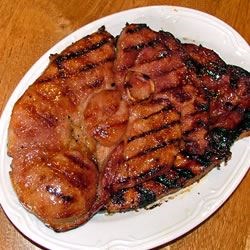 that ham would be so good on the grill!!!! We were a little nervous with all that horseradish, but it was awesome!!! We are big-time ham lovers in our house, so this really hit the spot. Not having to heat up the whole house for an entire day was an added bonus. If your short on time - you have to give this recipe a try!
Ham Slices on the Grill
1 cup packed brown sugar
1/4 cup lemon juice
1/3 cup prepared horseradish
2 slices ham steaks

Preheat an outdoor grill for high heat and lightly oil grate.
In a small bowl, mix brown sugar, lemon juice and prepared horseradish.
Heat the brown sugar mixture in the microwave on high heat 1 minute, or until warm.
Score both sides of ham slices. Place on the prepared grill. Baste continuously with the brown sugar mixture while grilling. Grill 6 to 8 minutes per side, or to desired doneness.