This is a new favorite in our house!!! It gets 5 stars all around!!! It was so good, I had to post it tonight!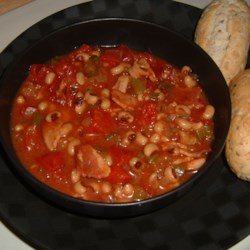 Black-Eyed Pea Chowder
INGREDIENTS
1 pound diced bacon
1 cup chopped celery
1 cup chopped onion
1 cup chopped green bell pepper
1 (15.5 ounce) can black-eyed peas with liquid
1 (14.5 ounce) can beef consomme
1 (29 ounce) can diced tomatoes
DIRECTIONS
In a large pot over medium high heat, saute the bacon until crisp. Set aside the bacon and drain the fat, reserving about 4 tablespoons of the fat in the pot. Add the celery onion and green bell pepper to the pot and saute in the bacon fat for 10 minutes, or until tender.

Add the peas, consomme and stewed tomatoes and allow to heat through, about 15 more minutes. Top with crumbled bacon when serving.